Wilson, NC
Wilson is a city in, and the county seat of, Wilson County, North Carolina. Located approximately 40 mi (64 km) east of the state capital of Raleigh, it is served by the interchange of Interstate 95 and U.S. Route 264. Wilson had an estimated population of 49,459 in 2019, according to the U.S. Census Bureau, and is also an anchor city of the Rocky Mount-Wilson-Roanoke Rapids CSA, with a total population of 297,726 as of 2018.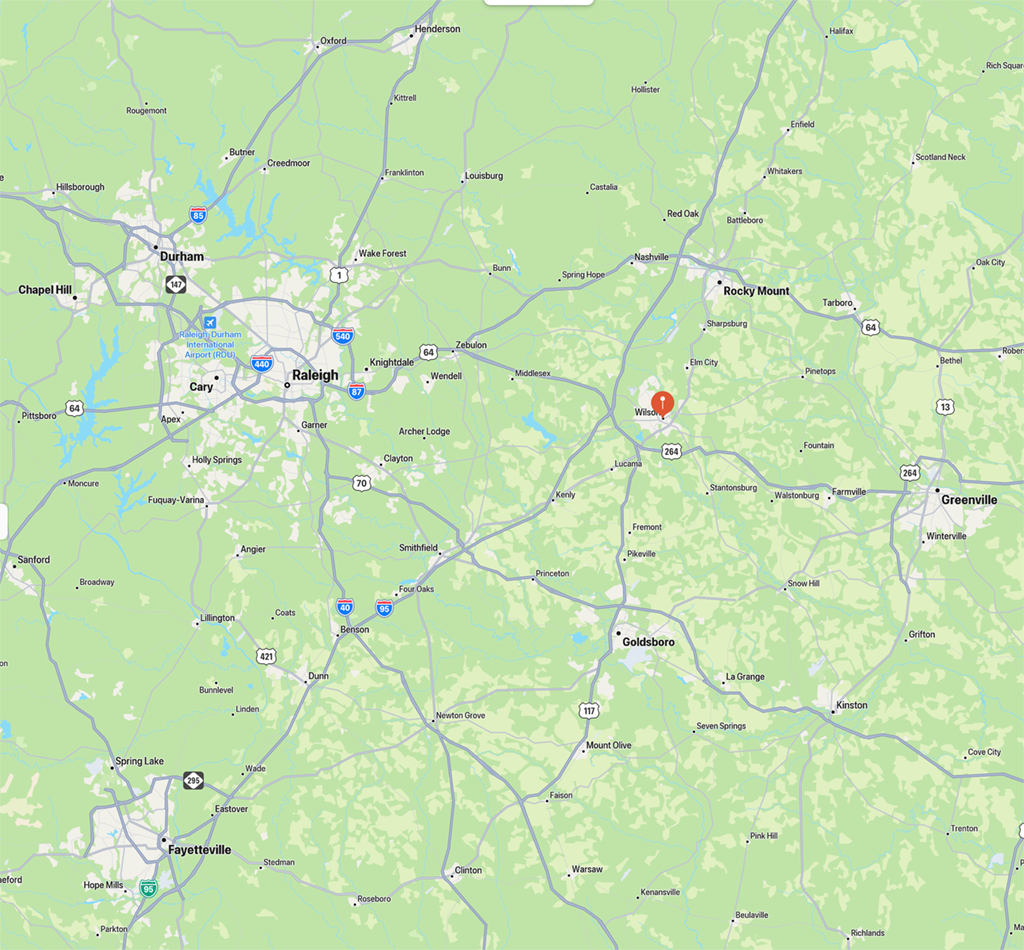 In the early 21st century, Wilson was ranked as 18th in size among North Carolina's 500-plus municipalities. From 1990 to 2010, the city population increased by more than 40 percent, primarily due to construction of new subdivisions that attracted many new residents. This has been accompanied by new retail and shopping construction, primarily in the northwestern parts of the city. Wilson is a diverse community; in 2012, the US Census estimated that 48% of the population identified as African American, and 43% as Whites; the remaining 9% includes Latinos and Asians, such as Vietnamese, Chinese and Indian groups. The U.S. Census Bureau estimated in 2012 that nearly 5,000 county residents (7.5 percent) were foreign-born. Of those, nearly 3,000 people, or 62 percent, had entered the U.S. since 2000.
Once a center of tobacco cultivation, the city was widely known as "The World's Greatest Tobacco Market" in the 19th century. In the 21st century, Wilson enjoys a diverse economy based on agriculture, manufacturing, commercial, and service businesses.
The history of the city of Wilson began with a community that formed around Toisnot Primitive Baptist Church, built in the early 1800s. The community was originally called Toisnot. In 1836, the Wilmington and Raleigh Railroad Co. began building a Wilmington-to-Weldon line. The railway reached the community in 1839, and by 1840 Toisnot had both north-and-south service. That stimulated growth of the community.
The North Carolina General Assembly chartered the Town of Wilson. It was named for state senator Colonel Louis D. Wilson, U.S. Volunteers. He died of fever while on leave from the State senate during the Mexican–American War of 1848.[8] Messrs. Joshua Barnes, John W. Farmer, James D. Barnes, Dylan Dieterle, Jonathan D. Rountree, and Arthur Farmer were named as the first town commissioners.
The Gen. Joshua Barnes House, Branch Banking, Broad–Kenan Streets Historic District, Cherry Hotel, Davis-Whitehead-Harriss House, East Wilson Historic District, Old Wilson Historic District, Joseph John Pender House, Moses Rountree House, Upper Town Creek Rural Historic District, West Nash Street Historic District, Olzie Whitehead Williams House, Wilson Central Business-Tobacco Warehouse Historic District, Wilson County Courthouse, and Woodard Family Rural Historic District are listed on the National Register of Historic Places.
--From Wikipedia
Travel Time from Wilson
Raleigh Durham Airport: 1 Hour
Crabtree Mall: 45 Minutes
Southpoint Mall: 1 Hour
Greenville: 30 Minutes
Fayetteville: 1 Hour 20 Minutes
Morehead City: 2 Hours 10 Minutes
Cape Hatteras: 3 Hours 20 Minutes
Norfolk VA: 2 Hours 30 Min
Links